12 wysportowanych instagramerek w rozmiarze XL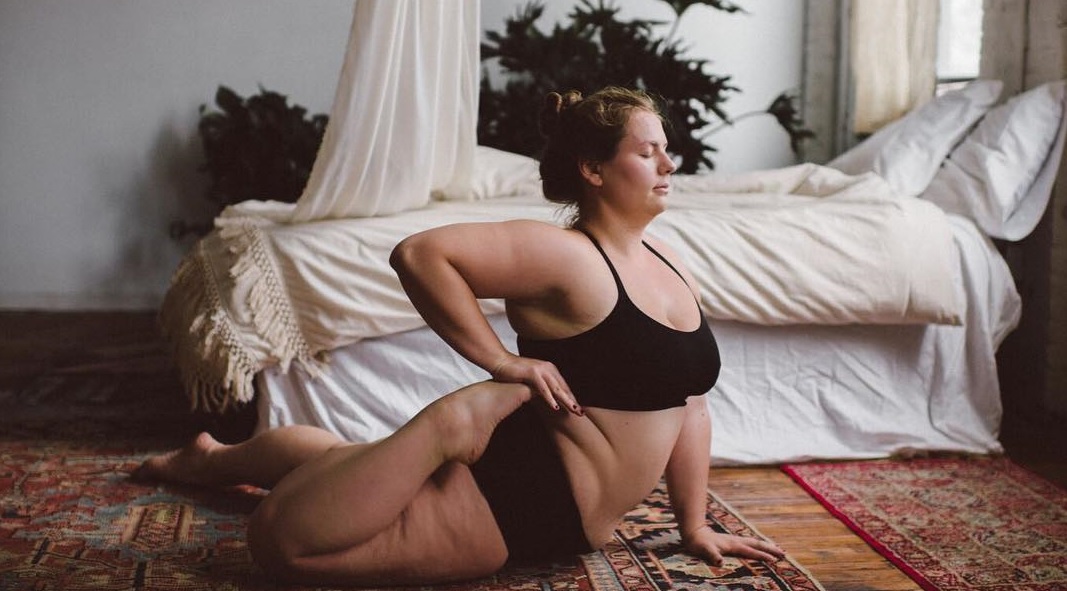 Wysportowana nie znaczy chuda. Powiedzmy to głośno! Przedstawiamy Wam listę 12 fajnych  instagramerek, które dowodzą, że nie sylwetka jest wyznacznikiem siły i kondycji, a ciężka praca, motywacja i samozaparcie. 
Jessica Rihal, plus size instruktorka yogi
Fitness nie jest wskaźnikiem masy ciała, sprawności fizycznej i utraty wagi. To zupełnie osobne sprawy. Powszechne i niebezpieczne jest błędne przekonanie, że utrata masy ciała i sprawność to te same rzeczy
1. Jessica Diaz- Hererra
Dziewczyna uczy tańca w Nowym Jorku, ale także podnosi ciężary, uprawia crossfit i  działa na rzecz akceptacji kobiet wszystkich rozmiarów. Jest silna, sprawna i pewna siebie. Jej misję wspierania kobiet plus size w sporcie, doceniają również różne marki, które chętnie podejmują z nią współpracę.
Zobacz profil @curveswithmoves
2. Dana Falsetti
Dana postanowiła rozwijać własną praktykę jogi, mimo że "wiele studiów jogi nie było dla niej szczególnie przyjaznych"- możemy przeczytać na jej profilu. Poprzez jogę pracuje nad "normalizowaniem różnorodności ludzkiej kondycji i dawaniem innym, szczególnie grupom wrażliwym, okazji do poczucia własnej wartości, samopomocy, a ostatecznie do samoakceptacji".
Zobacz profil @nolatrees
3. Roz The Diva
Jak patrzymy na Roz, to aż same mamy ochotę poćwiczyć na rurze. Jest nie tylko certyfikowanym trenerem personalnym i tancerką na rurze, promuje fitness dla kobiet o  wszystkich typach i rozmiarach ciała. Wszystkie mamy się czuć swobodnie!
Zobacz profil @rozthediva
4. Jessica Rhill
Jessica jest instruktorką jogi. Wykorzystuje swojego Instagrama, aby uczyć ludzi samoakceptacji oraz propaguje pozytywne nastawienie do własnego ciała.
Kochamy te zdjęcia!
Zobacz profil @round_the_way_gal
5. Maria Odugba
Maria Odugba, praktukująca jogę fizjoterapeutka łamie wszystkie stereotypy. Wykorzystuje swój Instagram do walki o bycie kobietą w rozmiarze plus w branży fitness, a także do edukacji na temat zespołu policystycznych jajników i niedoczynności tarczycy.
Zobacz profil @asap.yogi
6. CeCe Olisa
CeCe wspiera ruch "body positive", jest instruktorką fitnessu oraz współzałożycielką firmy theCurvycon. Stworzyła koszulki, z których przychód jest przekazywany na program kształcenia w zakresie projektowania ubrań w każdym rozmiarze.
Zobacz  profil @ceceolisa
7. Mirna Valerio
Mirna jest założycielką bloga "Fat Girl Running", gdzie pokazuje swoje zamiłowanie do biegania, jogi, turystyki pieszej i wspinaczki skałkowej. Jest wulkanem inspiracji o nieprawdopodobnej kondycji.
Zobacz profil @themirnavator
8. Sarah Sapora
Zagorzała zwolenniczka samoakceptacji. Prowadzi weekendowe warsztaty dla osób w każdym rozmiarze i wieku. Jej zajęcia uczą miłości do własnego ciała i pewności siebie.
Zobacz profil @sarahsapora
9. Luisa Fonseca
Luisa to wysportowana nauczycielka jogi, które inspiruje do wyjścia ze swojej strefy komfortu. Zachęca również do samodzielnej praktyki, choć my radzimy ćwiczenia pod okiem profesjonalistów.
Zobacz profil @curvygirlsmeetsyoga
Poleć koleżance
Podoba Ci się ten artykuł?